Tyree Ag specializes in custom aerial and ground application services for crop and livestock producers in southcentral Kansas and northwest Oklahoma. They are also a retail partner for AgroLiquid Fertilizers, an authorized DuPoint Pioneer seed dealer, and a supplier for a broad selection of crop protection and bio-stimulant products. In addition, Tyree Ag offers a variety of Precision Ag Services for their customers in attempt to improve yields through more efficient use of their inputs. Liquid fertilizer blends can be delivered to farms throughout their service area through a wide array of delivery options. Either to producer-owned storage tanks or through their extensive fleet of portable double and triple cone trailers and nurse tanks. Fertilizer products and blends can also be picked up by the customer at their facilities.
Tim Tyree started working as an agronomist for a spray pilot operating from the Larned, Kansas area in 1992. He examined customer's acreage and recommended the appropriate aerial spraying for their crop management needs. By 1995, Time wanted to get into the air himself and obtained his pilot's license. His wife, Paige, went to work with Tim in Greensburgin the fall of 1998, operating the location as a satellite location for the Larned business. In fall 2000, they took a leap of faith and started Tyree Ag, Inc. and began operating out of Kinsley, KS airport in 2001, offering aerial application services with one aircraft. Tim flew the airplane and made recommendations and Paige delivered the fertilizer and took care of the book work. The following year ground application services were added to enhance available application options, as did the beginning of their long standing relationship with AgroLiquid Fertilizers.
Tyree Ag operates out of two offices in Kinsley, Kansas and Laverne, Oklahoma, as well as from the airports in Larned, Kansas and Ashland, Kansas. Both locations have had major facility upgrades in 2006 and 2015 respectively, which includes an office and warehouse with adjoining fertilizer containment. A state-of-the-art hangar was built adjacent to the Kinsley airport and completed in 2008. These modern facilities provide secure and environmentally friendly storage for seed, liquid fertilizer, and bulk and packaged crop protection products. All aerial and ground equipment are loaded inside in contained areas that are protected from the weather of the central plains. Airplanes and ground applicators are loaded with automated equipment to insure the highest level of accuracy and to minimize exposure to employees and the environment.
In 2013 four new high clearance row-crop ground sprayers were added, and a fifth in 2016, ensuring ground application timeliness and efficiency. Along with these five ground sprayers, Tyree Ag currently operates two turbine Air Tractor airplanes with GPS guidance systems that include key features like moving map displays, flow controlled dispersal, and are capable of variable rate applications. To stay on the leading edge of application technology and to understand the latest in disease and pest management, their professional applicators attend training and workshops year round. Besides presentations featuring introductions of new products and their proper placement and usage, ongoing training also enables an understanding of the newest nozzle technologies and the best combinations of superior adjuvants, crop protection, and fertility products.
One highlight of 2016 included the completion of a new warehouse and office facility in Laverne, OK. The warehouse is 80' x 160' and the 40' x 40' office sits adjacent. Inside building containment has a volume of 8,950 gallons, as well as indoor and outdoor fertilizer containment of 6,902 gallons and 46,902 gallons respectively. The warehouse has radiant floor heating, as well as loading and unloading bays for more efficient product delivery. A ribbon cutting and open house event was held on November 9, serving over 150 Tyree Ag customers and community members.
Beginning with only two employees in 2000, Tyree Ag has grown immensely to now employ 29 full-time employees. After 16 years of business, Tyree Ag still wants to make your job easier. For more information or an estimate, call toll free 866-897-3324 or 620-659-2208 or visit our website www.tyreeag.com.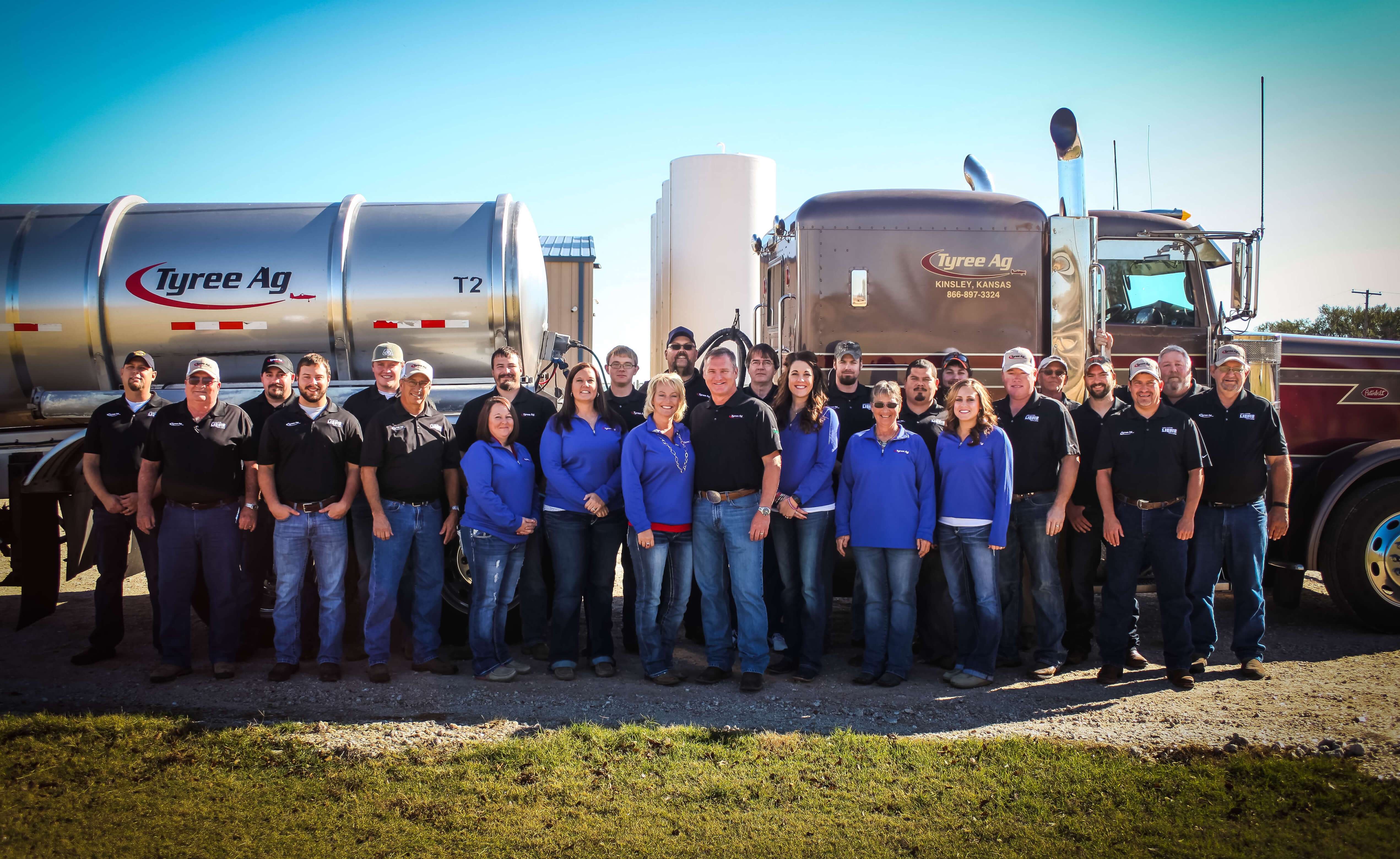 Written by: Kristine Puthoff, Tyree Ag Communications Manager