On Saturday, November 7, 2015, approximately 350 individuals gathered at Kinsley's airport to celebrate 15 years of success for Tyree Ag. The evening included an open house where customers could speak with vendors who were set up at booths in the company's warehouse. Vendors represented included Bayer (Marc Johnson), DuPont (Greg Justice), AgroLiquid (Brian Waugh & Albert Bancroft), and BASF (Brian Taylor). Tyree Ag also had a booth set up to give customers the opportunity to sign up to receive text alerts notifying them when their field application is completed, as well as preparing them for our online bill view and pay option that will be coming soon to Tyree Ag. Dinner was served by Hog Wild Pit BBQ, as well as cakes from County-A-Bakes. Introductions, announcements, and door prize drawings followed with remarks from Tim Tyree. For the main event, keynote speaker and comedian for business and agriculture, Damian Mason gave the crowd belly-aching laughter. To conclude the night, live music from the Wes Cossman Band filled the airplane hangar, while many attendees hit the dance floor.
We were very excited about the large attendance we had and glad that so many customers were there for us to show our appreciation to. There were 17 lucky attendees who received door prizes and three who received Yeti Coolers sponsored by Tyree Ag. A special thanks to everyone who sponsored door prizes and to Circle K Auto Parts of Kinsley for supplying the ice, as well as to United Suppliers (Monte Quick) for the support of the event!
AgroLiquid - $200 Cash
BASF - Yeti Cooler & Bar Stool
Bayer - Electric Grease Gun
DuPont - 2 Yeti Bag Coolers
Kinsley Food Pride - $150 Gift Card & $150 Cash
S & K Building Center (Kinsley) - Socket Set
Strate's Kountry Kitchen - 4 Gift Certificates
Syngenta - 3 $1000 Product Vouchers
Tyree Ag - Promotional Product Gift Basket
*Winners of the Yeti Coolers: Morris Schaller, Stuart & Terri Briggeman, Paula Carnagey
Although this was a celebration of 15 years in business for Tyree Ag, we know we could not have gotten to where we are today without continued support and business with our customers and vendors. We send out a special thanks to all who have supported us along the way!
KP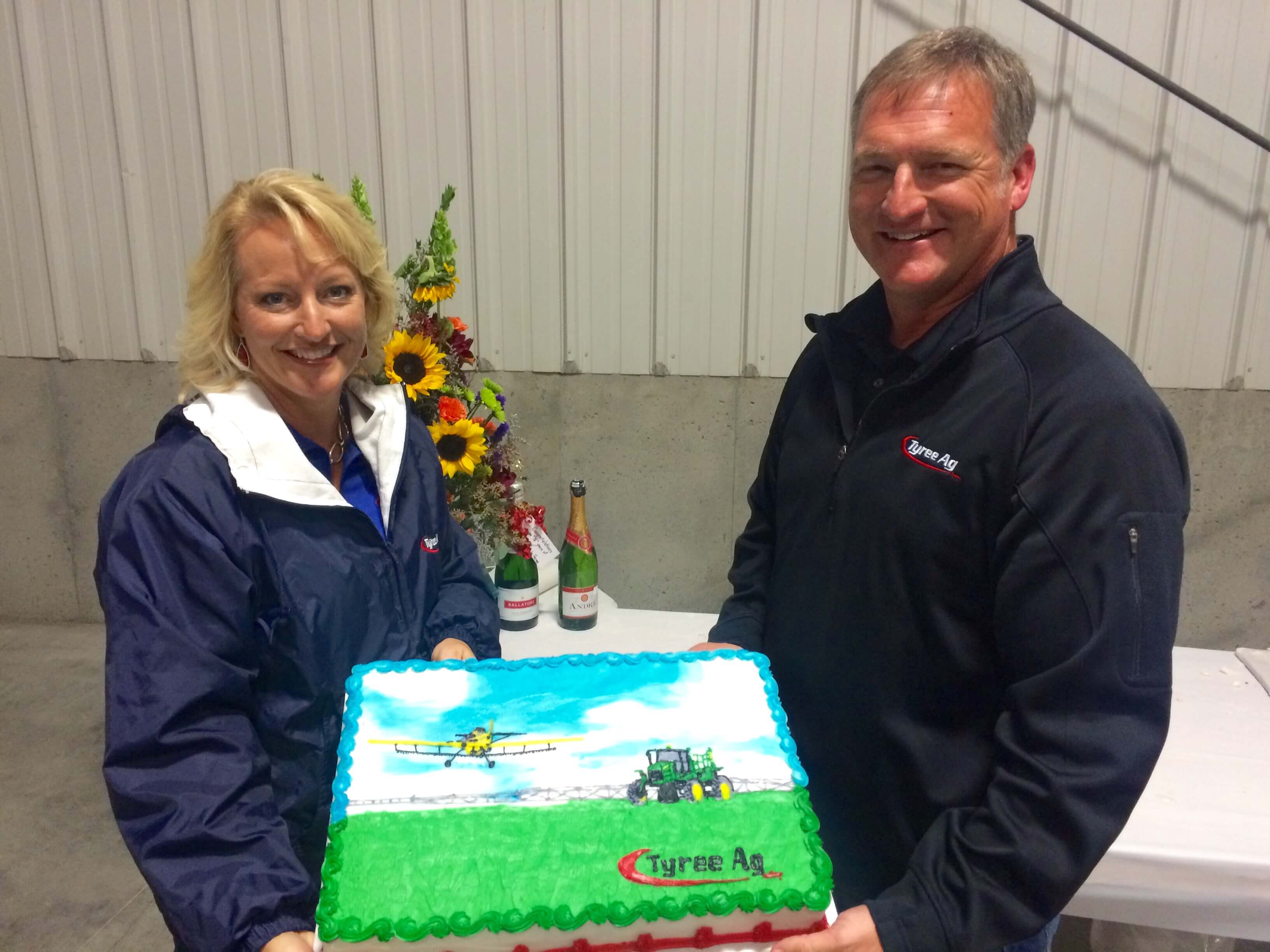 Pictured is Tim & Paige Tyree.
Click here to view more photos from the event.