ASAP Week Day 2 – Ag Aviation Safety
Today is the second day of Agricultural Safety Awareness Program (ASAP) Week and although there are many topics of concern when it comes to safety in agriculture, Tyree Ag is focusing on one area each day this week. Today's concern is in regards to agricultural aviation. You may be asking, why would I need to know the precautions of an airplane applying product to my fields? The art of flying is a great risk and we at Tyree Ag are appreciative of all those who commit their lives to do so. Therefore, we want to share some safety tips and precautions that you can do from the ground.
Low-Flying Aircraft Have a "Towering" Problem
Just to the west about twenty miles of our Tyree Ag Kinsley location stands 67 wind turbines. We're sure you have seen one of the wind farms somewhere along the way, or even single standing turbines or towers near someone's farm. You may think they look big enough from the ground but when in an ag plane, there are many obstacles to be looking out for all while making sure the product they are carrying is applied to the correct field, at the appropriate rate, as well as other items to consider.
"The airspace aerial applicators work in is becoming increasingly obstructed by transmission lines, communication towers, wind turbines, and hard-to-see meteorological testing towers. That poses a real concern to the aerial industry, not just in terms of safety, but also in terms of accessing farmers' fields to treat their crops, since many prime wind-energy development areas are located in rural, agriculturally rich areas." –National Agricultural Aviation Association (NAAA)
Towers are one of the most dangerous obstacles an ag pilot encounters. When these towers are placed near farmland and are not marked properly, farmers could lose the ability for their land to be accessed by ag planes for product application. NAAA has developed tower safety guidelines that encourage developers not to erect wind towers on prime farmland in a manner that prevents aerial applicators' access to apply product to the land.
Tyree Ag is not saying the erection of these towers should be banned, but we do believe there are many safety precautions and guidelines that must be followed when doing so. With the help of the NAAA, Please find the Tower Safety Guidelines here.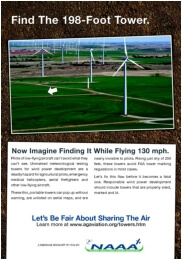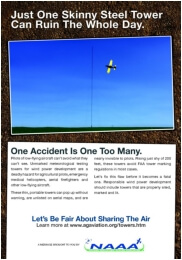 UAV Safety Campaign – "Let's Be Fair About Sharing the Air"
With the recent widespread use of unmanned aerial systems (UAS), Tyree Ag is concerned that individuals operating the devices may not take the appropriate precautions to prevent low-level aviation accidents. Small UAVs can be virtually impossible to see to ag pilots and a collision could have fatal consequences.
Tyree Ag and NAAA "support the safe integration of unmanned aerial systems (UAS) into the National Airspace System in the event that they provide an equivalent level of safety to having a pilot onboard. This includes requiring line of sight operation, installation of an Automatic Dependent Surveillance-Broadcast (ADS-B) Out technology, strobe lighting, aviation orange and white marking to promote visibility and other measures to ensure proper operation, and awareness by manned low-level aviation operations."
Here's what you can do as a safe and responsible UAV operator:
Get certified and well-trained in operating a UAV
Equip UAVs with strobe lights and tracking technology
Follow the law – always give the right-of-way to the manned aircraft
Coordinate with local aircraft operators about your UAV operations
Carry sufficient UAV liability insurance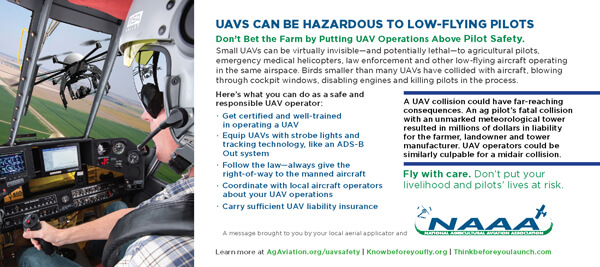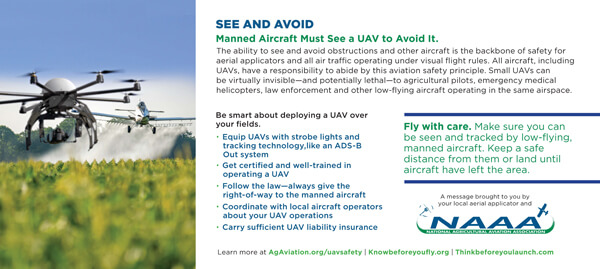 The FAA released its small UAS Notice of Proposed Rulemaking, which can be viewed here.
Join Tyree Ag in trying to keep our ag pilots safe and spread the word about the Share the Air campaign!
KP