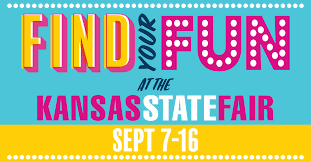 The Kansas State Fair begins THIS WEEK! Some of you may not know, but there is a theme each day of the fair. On Friday, September 14th, Ag Innovation Day was created specifically for farmers and ranchers.
There will be Producer Power Chats: twelve 20-minute, fast-hitting talks on topics like beef traceability, irrigation innovation, and the newest combine in the nation. Talks are from 10-11am, 12-1:30pm, and 2:30-6pm at the House of Capper directly east of the administration building.
10 am - Vari-Max- Satellite Crop Evaluations
10:30 am- Irrigation Innovations
12pm- Tribine Combine Introduction
12:30pm - AgCo New Products Highlights
1pm - John Deere Products Highlights
2:30pm - Cattle Trace identification system
3pm - Te Pari Cattle Health Equipment
3:30pm - Coffman Cover Crop Seeds
4pm - Indigo in Crop Water Management Technology
4:30pm - Hitchpin Machinery Sharing Technology
5pm - Drone uses and evaluations on farms
5:30pm - Case-IH New Product Highlights
Innovation Row: One-day (all day) display of cutting-edge equipment, including the Tribine Harvester, located by Gottschalk Park.
Commercial Exhibits: Meet with dealers and manufacturers of a wide range of equipment, utility vehicles, supplies, and tools.
Farm Bureau Activities – Kansas Farm Bureau Ag Learning Zone (Ad Astra Building)
10:30am, 2:30 & 4:30pm – Modern Technology on the Farm: Jacqelyne Leffler
11am – Kids DNA Bracelet Craft
5pm – Adult Precision Ag Demonstration
K-State Research & Extension Activities – Pride of Kansas Building: Talk to an expert about livestock production.
Trace Adkins - 4-H/FFA Night - BUY TICKETS
4-H and FFA members get $5 off concert tickets with promo code 4HFFA.
7:30 | Nex-Tech Wireless Grandstand
KP