Tim and Paige Tyree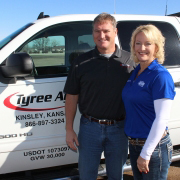 Tim grew up in Alva, OK and helped his family farm in parts of Colorado. He attended Oklahoma State University, where he met his wife, Paige Lemmons. He graduated with his Bachelor's degree in 1991.Paige was born and raised in Laverne, OK. She graduated from Oklahoma State University with a Bachelor's degree in accounting and later worked in the lending department for First State Bank in Larned, KS. The two were married in 1991.
Tim started working as an agronomist for a spray pilot operating from the Larned, Kansas area in 1992. He examined customer's acreage and recommended the appropriate aerial spraying for their crop management needs. By 1995, Tim wanted to get into the air himself and obtained his pilot's license. Paige went to work with Tim in Greensburg in the fall of 1998, operating the location as a satellite location for the Larned business. In fall 2000, they took a leap of faith and started Tyree Ag, Inc. For 2001, Tim flew the airplane and made recommendations and Paige delivered the fertilizer and took care of the book work.
In addition to their business endeavors, Tim and Paige have four children - Morgan (and James), Trevor (and Riann), Payton, and Carson. They welcomed their first grandchild, Maverick, in 2021.
Tim and Paige share a passion for agriculture, enabling them to promote the industry and create lasting relationships with their customers. They appreciate their many blessings that have come their way, including wonderful employees.
"It hasn't always been a walk in the park, but long hours, hard work, and dedication have paid many dividends. Our Tyree Ag family continues to grow and we couldn't be more proud." – Paige Tyree